Our Meat Department has been newly renovated and offers the elite Dry Aged Beef, Organic ground Beef, Fresh Regular or ground Chicken, Organic Chicken Breast, Fresh seafood, Marinated ready to cook meats and homemade Sausage. You can also find delight in watching native fish of our mountains swim in two 500 gallon fish tanks.
Our meat is processed and packaged daily and placed in our refrigerated cases for immediate sale. You can't get more fresh than that!
Dry aging occurs when beef is processed and stored in a 30-35 degree cooler for a minimum of 72 hours.
The longer you dry age beef, the more you increase the density which concentrates the flavor.
Goodwin's is the only market on the mountain that offers this superb level of beef!
You can place an order ahead of time, select a cut from our refrierated case or ask our butcher to cut your specified thickness on the spot!
Our chicken is processed and packaged daily however if would like it ground or have a special order our butchers would be happy to prepare it on the spot.
Our seafood is delivered 3 days a week and is prepared daily and placed in our new Seafood Case. It's new design cools from the bottom, which replaces the ice… keeping the product fresher longer!  We carry delicious Salmon, Shrimp, Tilapia and Lobster Tails!  You may also place an order for a specific item that we do not carry in stock and we will have it on our next delivery day!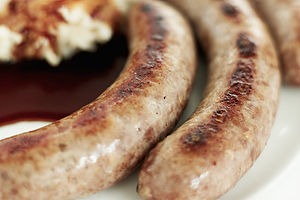 Our butchers take pride in their homemade Polish Sausage and Bratwurst. They use only the freshest seasonings and make it multiple times a week.